Premium Wide Plank Wood Bar Tops
Brooks Custom's Premium Wide Plank wood bar tops are made with the same care and craftsmanship that goes into our wide plank countertops. Every board that goes into the tops are hand-selected from high-quality hardwoods.  This attention to detail ensures that your bar top will have no knots or sapwood, and will have a consistent color and grain pattern throughout.
Your wide plank wood bar top can be made in any shape to fit your bar's aesthetic. Curved edges, u-shaped, or classic pub tops are not a problem. We can also include classic Chicago bar rails or modern eased edge details.
Wood bar tops by Brooks Custom are easy to maintain. Each one comes finished with our signature Marine Finish. This permanent finish is water and stain proof and is built to stand up to heavy use. Daily cleaning is easy; use mild soap and water or lemon pledge.
We also offer a variety of other finishes, including the classic high-polish bar top finish. This high sheen is a staple in bar and restaurant design, but it does require a bit more maintenance and care to keep looking like new.
Premium Wide Plank bar tops can be made from any of our available wood species. You may also choose from any of our three standard stain colors, or provide a sample for us to provide a custom color match.
For pricing inquiries and more information about wood bar tops, email your photos or drawings to quotes@brookscustom.com. We will review your information and will return an estimate to you within one to two business days.
All of Brooks Custom's wood bar tops arrive directly from our factory in Mt. Kisco, NY. We are a unique wholesale supplier that provides direct contact with our craftsmen and engineers throughout the design process.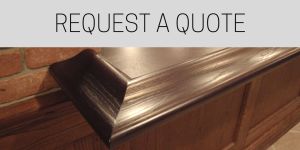 For More Information:
Quotes
Wood Species
Color Options
Construction
Design & Detail Options
Edge Profiles
Finish Options
Care and Maintenance
FAQ
Warranty
Green Statement
Premium Wide Plank Wood Countertops 
Premium Wide Plank Waterfall Tops
Classic White Kitchen Wood Countertops
Premium Wide Plank Countertop Details
View More of our Premium Wide Plank Products: