Premium Wide Plank Wood Countertops
Brooks Custom is known for its custom premium wide plank wood countertops. They have consistent color and tone and are finished with our signature waterproof Marine Finish, the most durable coating in the countertop industry.
All Wood Countertops come with a Limited Lifetime Warranty.
Our craftsmen commit to making sure that your countertop meets our quality standards. Before we begin fabrication, the boards for each top are hand-selected from our inventory of high-quality hardwoods. These boards range in width from five to twelve inches (5"-12") and are matched for an even and satisfying rendition.
Characteristics of Premium Wide Plank Wood Countertops:
All boards are selected for consistency.
High-quality hardwoods range 5" to 12" in width.
Countertops will have a furniture-like quality; no knots or sapwood are used.
Boards will run the full length of the countertop.
No butt joints are used unless absolutely required due to the length of the countertop.
Our Premium Wide Plank countertops come with a choice of standard color stains, in addition to natural color.
We offer custom color matching. You may provide us with a sample as a reference to match.
Our durable Marine Finish is waterproof and requires the least amount of maintenance in the wood countertop industry.
The proprietary blend of oils is a permanent finish that does not require refinishing.
Our surface is highly resistant to water damage and staining.
Daily cleaning is simple and can be done with Lemon Pledge, Weiman's Furniture Cream, or any non-abrasive household cleaner.
The Marine Finish is the only finish of its kind that can be repaired on-site.
Delivered to you direct from our factory woodshop.
We can schedule a service technician to visit your location and repair the countertop.
For pricing inquiries on premium wide plank wood countertops, email your photos or drawings to quotes@brookscustom.com. We will review your information and will return a proposal within one to two business days.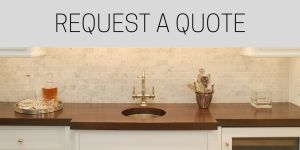 For more information:
Premium Wide Plank Wood Countertops
Premium Wide Plank Waterfall Tops
Classic White Kitchen Wood Countertops
Premium Wide Plank Countertop Details
Premium Wide Plank Bar Tops
View More of our Premium Wide Plank Wood Products: