Wide Plank Waterfall Style Countertops
Our Premium Wide Plank waterfall style countertops carry on a popular style that rose in the 1970s. Waterfall style countertops are now viewed as a classic staple in interior design, especially in modern and transitional homes.
Waterfall style countertops are characterized by a solid top that is continued through the legs to create a singular piece. This is commonly used on an island, or for a desk, to create a focal point in a modern layout.
Waterfall style countertops are versatile and really stand out against modern, minimalist décor. The mitered waterfall edge creates a focal point or encapsulates free-standing kitchen cabinets. This style is a rising trend in conjunction with the trend of open-plan homes. The wide plank waterfall tops create a visual barrier separating room and creating a design flow.
For this technical style, it takes a skilled craftsman, like those at Brooks Custom, to master the joinery needed for this design. To create the look of a single piece, our craftsmen employ either a butt joint or a miter joint to connect the wood slabs.
For our wide plank waterfall style countertops, we hand-select each board for consistency of color, grain, and tone. This ensures that both the top and the legs have the same color, grain, and tone throughout.
This sleek style can be constructed from any wood species, concrete, or stainless steel.
All of Brooks Custom's wood countertops are manufactured in and arrive directly from our factory in Mt. Kisco, NY. Our easy design process puts you in control and in contact with our craftsmen and engineers to bring your vision to life. To get pricing or more details, email quotes@brookscustom.com or call 800-244-5432 to speak with Joe.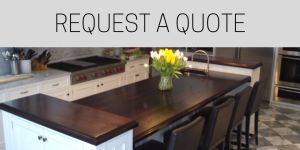 For More Information:
Quotes
Wood Species
Color Options
Construction
Design & Detail Options
Edge Profiles
Finish Options
Care and Maintenance
FAQ
Warranty
Green Statement
Premium Wide Plank Wood Countertops 
Classic White Kitchen Wood Countertops
Premium Wide Plank Countertop Details
Premium Wide Plank Bar Tops
View More Premium Wide Plank Products: