NEWSFLASH: A New and Straightforward Way to Protect Concrete Countertops!
Richard Brooks never stops testing and improving his products. He's discovered a great way to maintain and protect concrete countertops – Beeswax. Also known as a 'salad bowl finish,' beeswax is a food safe and effective sealer and protectant.
Apply beeswax to your countertop occasionally to increase the concrete's stain resistant properties.
For the best results, we highly recommend you apply the beeswax periodically to your countertops following the instructions provided by the manufacturer.
We recommend using any of the below Beeswax finishes which are easily available on Amazon:
If you have any questions, please call us at 800-244-5432 or email service@brookscustom.com
Concrete's Unique Pattern of Use
While our concrete table tops are very durable, you will see some wear marks over time. This can include light scratching or water marks. This is completely normal and will not affect the concrete top in any structural way. These marks will eventually combine to form a unique patina, or 'pattern of use'. Concrete is a fluid countertop medium and will continue to evolve over the lifetime of the top; it is not meant to stay pristine.
To better illustrate this, we discovered a few concrete table tops (that were not done by us) at a restaurant in Brooklyn, NY. The tops are very similar to our Verdicrete concrete tables and do show some drink rings and other wear marks. It's important to note that these marks are only apparent on a close-up inspection of the table top. When looking from farther away, you can't tell the difference.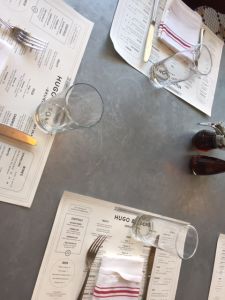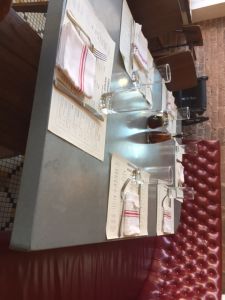 Also remember, that these are taken in a busy restaurant. Concrete installed for a residential project will see less frequent use and will be better maintained.
The character marks that appear on concrete countertops and tables are just surface marks. If you do not like how they present on your top, they can be buffed out and minimized. The regular application of Beeswax can slow the progression of these marks and will also make it easier to blend out.