100-Foot Bar Top for New Coney Island Restaurant!
Brooks Custom is proud to unveil its latest commercial bar installation - a 100-foot bar top! The lengthy bar top, the longest bar top in New York City, sits proudly in Kitchen 21, a new eatery located on New York's famed Coney Island Boardwalk.
The walnut bar was designed with the restoration of this landmark space in mind, and to keep up with the demands of a bustling restaurant during peak tourist season. 
Kitchen 21 is part of an emerging entertainment complex in Coney Island that is also home to the Ford Amphitheater and Seaside Park. Comprised of five unique and on-trend food options, including the Parachute Bar (a nod to Coney Island's Parachute Drop), the restaurant is located in the historic Childs Restaurant building. The building underwent a complete renovation and restoration in a bid to revitalize Coney Island following the damage incurred by Superstorm Sandy.
Brooks Custom was given the honor of designing the bar top for this grand project because of its long history and reputation for providing the durability needed for a project of this scale. Brooks Custom also was able to develop a standout design that would keep in the aesthetic of the restoration.
To deliver on the expectations of its client, Brooks Custom designed a traditional walnut wide plank bar top with a rich brown stain that complements the rest of the building's materials. Brooks also added a custom classical edge profile with bronze banding as specified by the client to add an attractive design highlight.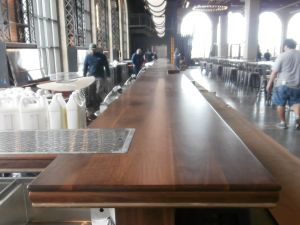 Since the bar is sure to see heavy traffic in its inaugural summer season, we had to develop an even tougher finish than our hard as nails Marine Finish. This commercial bar top finish has a satin sheen and expands on the strength of our finish and is meant to withstand heavy commercial use and will stand up for many years to come.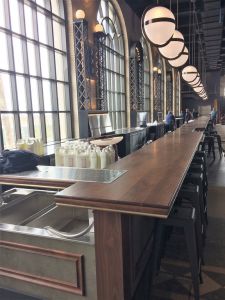 Because of Brooks Custom's skill and experience from over four decades in the countertop industry, it was able to deliver on the client's needs and installed the gorgeous 100-foot statement bar top in time for the restaurant's opening before Memorial Day.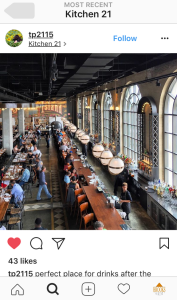 Now that summer is in full swing, Kitchen 21 has quickly become a new hot destination for the Coney Island Boardwalk.
To get ideas for your next bar top project, contact Brooks Custom at quotes@brookscustom.com, or call 914-666-2029. To tour our facility and to see samples of our work, you may visit our Mt. Kisco, NY showroom anytime during the week, 8:30am-4:30pm. No appointment is necessary.
For more information on Kitchen 21, visit kitchen-21.com for details.